Read time:

2

min
Looking for an easy, hearty, and flavorful meal that's perfect for meal prep? This Cajun-style red beans and sausage recipe hits every mark—and it's vegan too! Make this dish on Sunday and leave it in the fridge to eat throughout the week—it becomes even more flavorful as it sits.
This recipe uses vegan sausage, which can be found at most grocery stores. However, you can substitute with chopped mushrooms, cooking for three to five minutes longer to expel the water and crisp the mushrooms, or swap with regular sausage and cook according to the package directions. Want to add more fiber to this dish? Substitute the white rice for brown rice or quinoa (which is also a great source of protein).
1 cup white rice

1 tablespoon oil

1/2 white onion, chopped

3 cloves garlic, chopped

2 green bell peppers, diced 

2 stalks celery, diced

4 links vegan chorizo or other spicy sausage, sliced 

1/2 cup canned diced tomatoes  

3/4 cup tomato sauce  

1/4 cup vegetable broth  

1 bay leaf

1 tablespoon dried parsley 

2 teaspoons creole seasoning 

1 1/2 teaspoon paprika  

Salt and pepper (to taste) 

1 can red kidney beans (drained and rinsed)
Optional garnish: 
1 tablespoon green onions, sliced   

Dash of dried parsley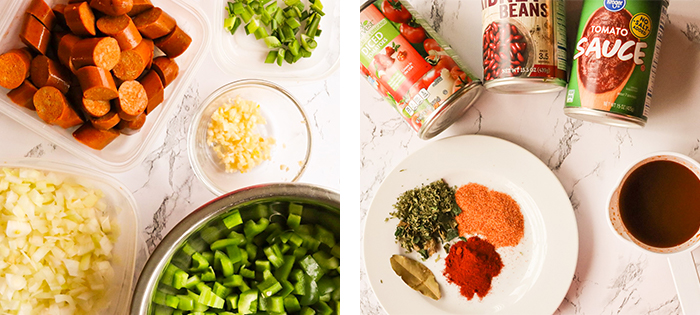 In a medium saucepan over medium heat, add rice and 2 cups of water. Cover the pot and cook for 15-25 minutes or until soft. 

In a large sauté pan over medium-high heat, add oil and onions. Cook for 2-3 minutes or until softened. Add garlic and 1 tablespoon of water and cook for 2-3 minutes, until fragrant. Add sliced sausage and cook for 3-5 minutes, until lightly brown.  

Add bell peppers and celery, and cook for 3-5 minutes or until tender. Adjust heat to medium-low and add diced tomatoes, tomato sauce, vegetable broth, bay leaf, dried parsley, creole seasoning, paprika, and salt and pepper to taste. Stir occasionally for 15-20 minutes, until thickened.

Add kidney beans and cook for 8-10 minutes, until beans are softened. 

Serve the sauce mixture over rice and top with optional garnishes.